Fringe and Poms are everywhere right now from jewelry to clothing and now on throws and shams. The cozy fringe we've seen is fun and playful adding a little something to your everyday blanket or pillow. Kate Spade designed a bright line of fringed throws for one of our favorite lines Jaipur, which we were able to touch and feel in person. Dress up a guest room or just your living room sofa with these easy accessories.
Charred Wood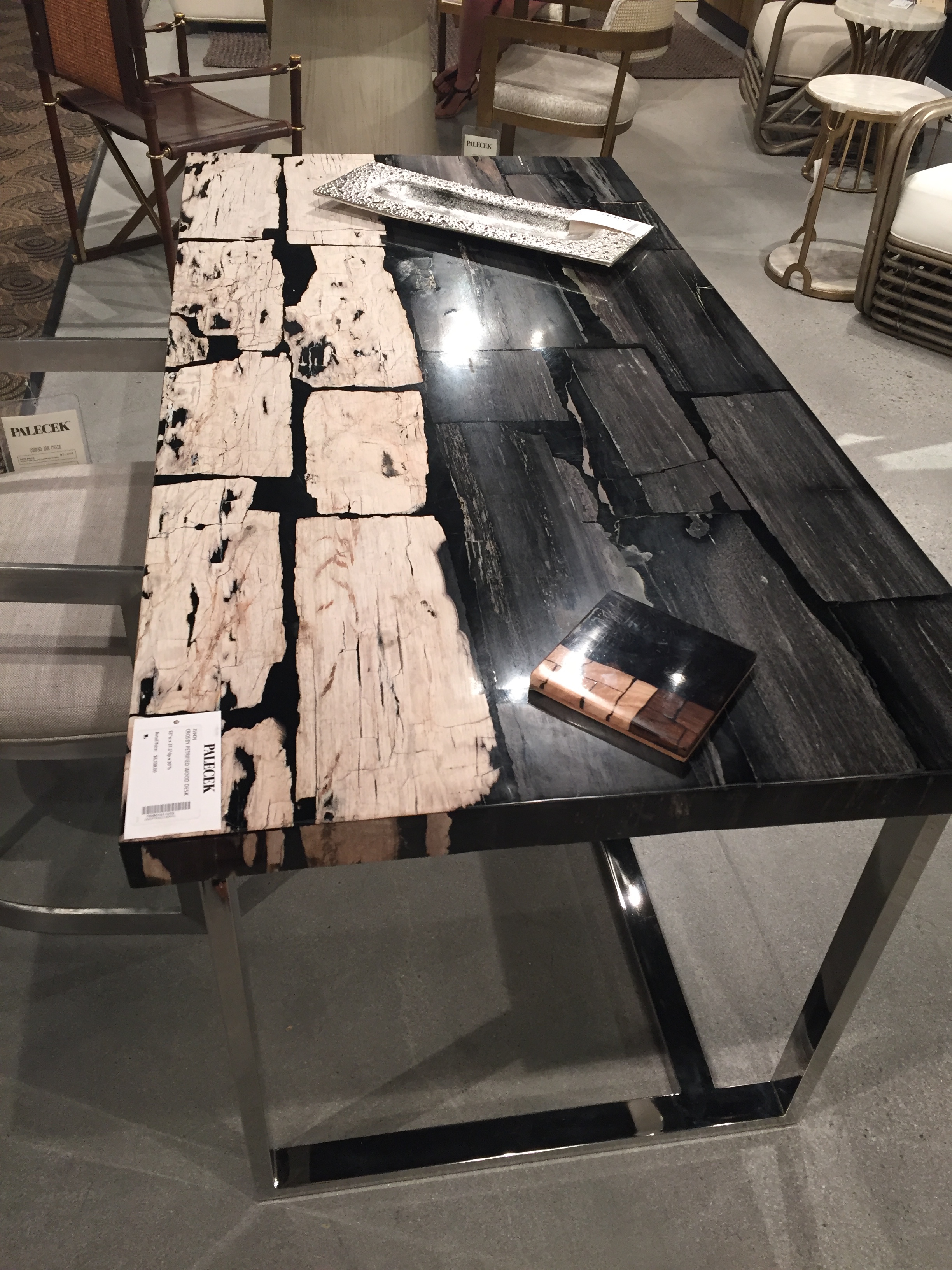 Charred Wood looks like the aftermath of an accidental wildfire, however this effect is a carefully designed finish and is showing up in some very creative forms. From furniture to decorative pieces, the charred wood look is rustic yet refined. This layered accent wall we noticed at Gold Leaf Design Group was painted white yet still showcases the unique charred texture adding an element of interest to any space. The lacquered table from Palacek is a beautiful example of how designers are crafting with charred and petrified wood allowing you see the beauty of the wood without damaging it through use.
Transforming Furniture
This unique leather sofa piece from Dovetail transforms easily into a tete' a tete' - needless to say, we had a lot of fun with this one! The kitchen island from Four Hands extends to seat an extra two to five guests and works great for small spaces or in homes of those who are only occasional entertainers. Another great piece we witnessed in action utilized automation with the click of a button to transform a sofa into a bed without the cumbersome mechanics of your typical pull-out sofa bed - genius! We noticed a lot of other cool mechanics in the sofa world, if you're interested in hearing more about it, come and chat with any of our designers.
Upgraded Style & Function in Outdoor Furniture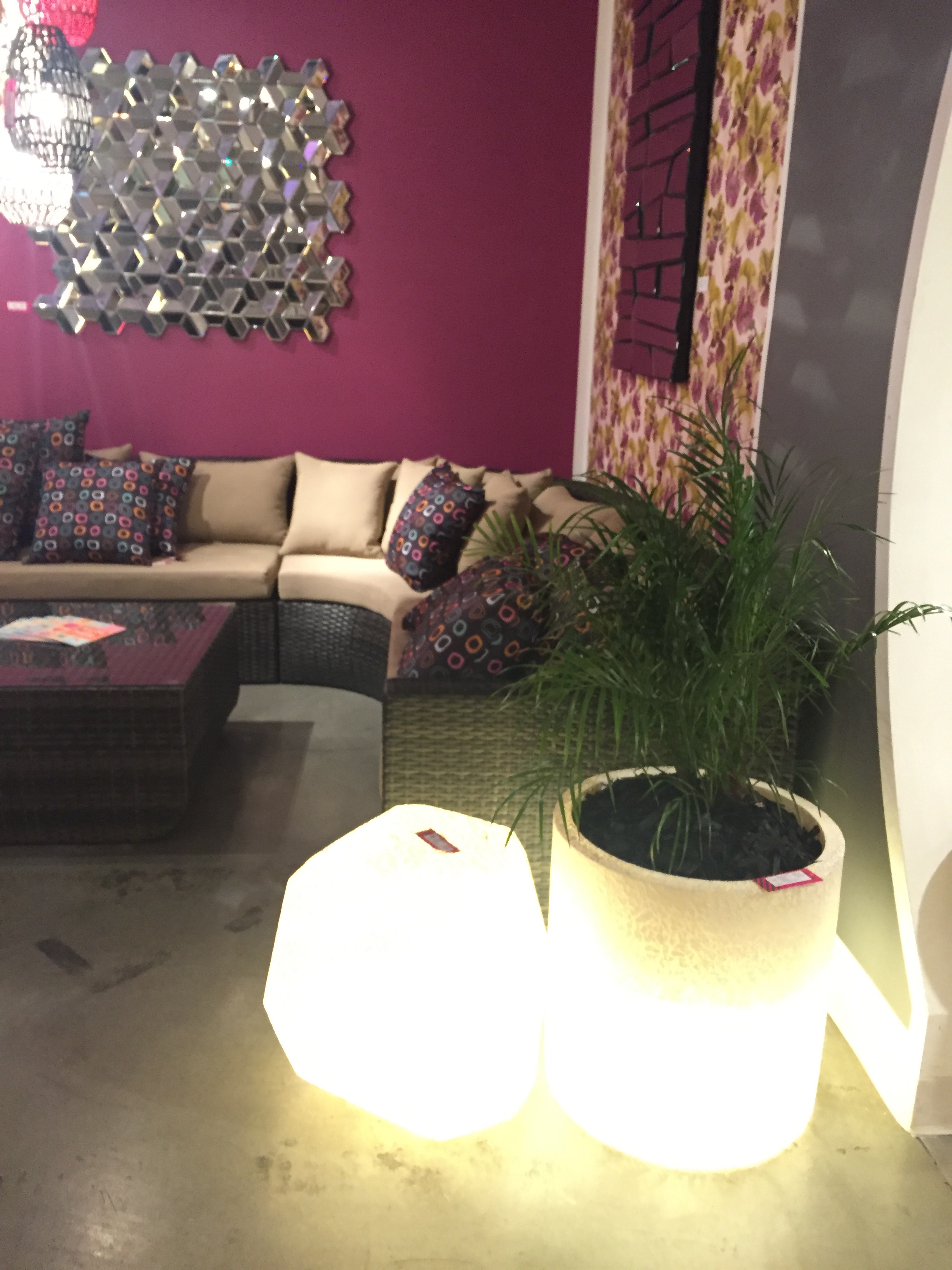 These funky wingback patio chairs were not only super stylish, but pretty comfortable as well. The elastic cord is a big trend in outdoor furniture and comes in every color imaginable. The glowing stools and planter pots from Zuo Mod were definitely eye catching and fun for summer nights. We also really loved the look and functionality of Seasonal Living's new line of cordless ceramic and stone outdoor lighting.
Interior Design Stars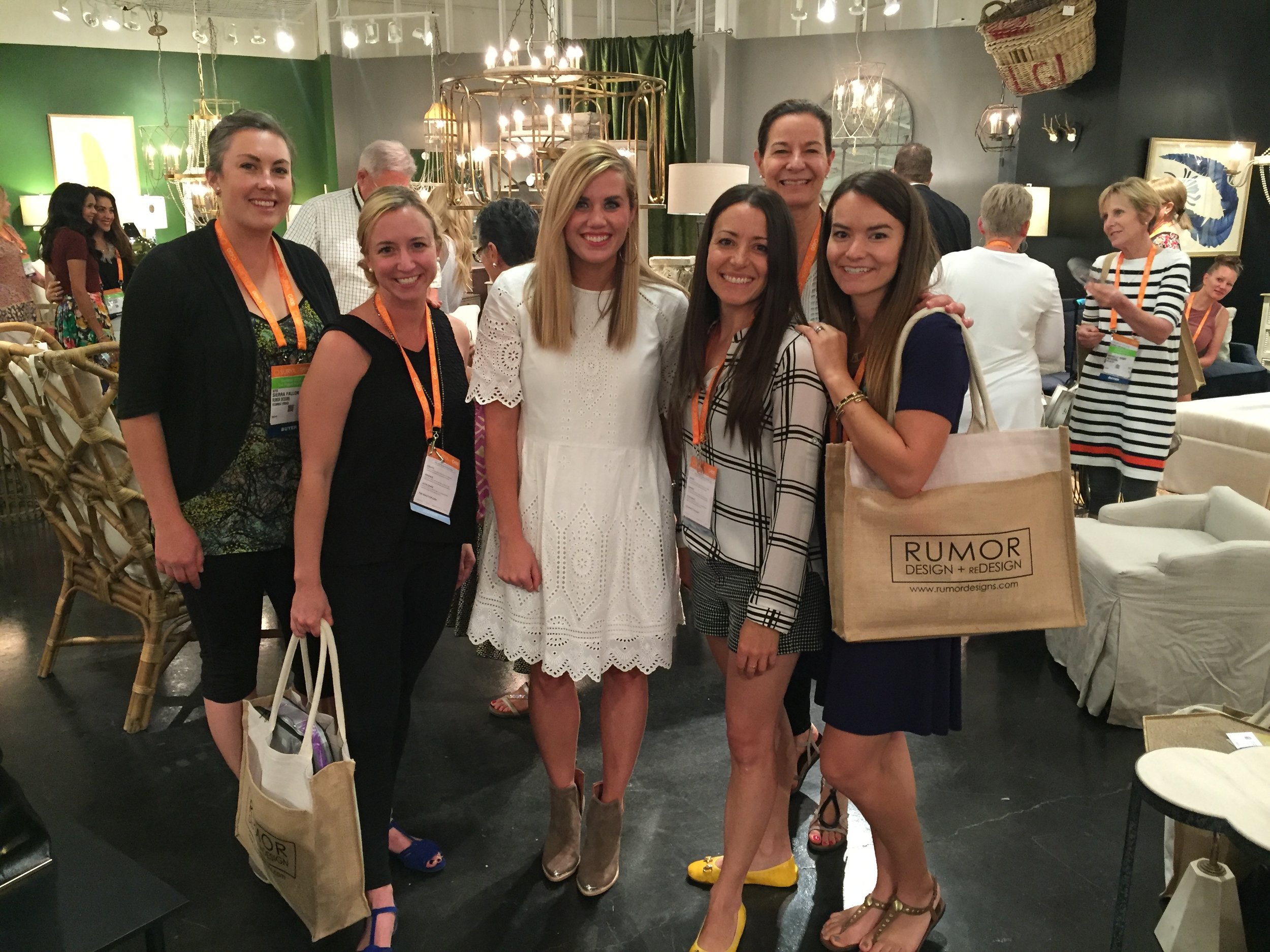 Yes, we met the Property Brothers! Jonathan and Drew traveled all the way from their home in Vegas to the Vegas Market for their book release Dream Home. The Scott Brothers towered over us at 6'5" and we spent a wonderful 2 minutes with them!
Shea McGee on the other hand, spent a little more time with our team chatting about the business of Interior Design and her quick launch into success and minor celebrity. She owns the design firm Studio McGee out of Salt Lake City, Utah - a studio we adore and follow on social media.
Last but not least, Joanna Gaines of Fixer Upper on HGTV - while not present at Market, had a big presence at Loloi - a company we love and use in our projects. Joanna worked with Loloi to design a special line of rugs and pillows from her collection Magnolia Homes.
Recap!
The Rumor Team learned a lot at Vegas Market and we were able to bring back a few fun things we really loved. Our new line of sheets and pillows from Malouf just came in and are out on the shelves ready to take home. We also brought back a few gorgeous decorative pieces from Accent Decor. Stop by our showroom to see all of the goodies we've collected for you Steamboat!